Many PNWS members know me as a bronze sculptor involved exclusively with narrative bronzes. But there is another side bubbling up that wants to be more aggressive about other creative forms.
Before I went full-tilt into using the figure to tell stories and convey emotions I was producing abstract work in all sorts of mediums and various commercial displays that required innovation and involvement in a wide variety of materials and methods. Here are a few projects executed prior to my bronze sculptor days that were both challenging and fun.
I once built a pinball machine that taught science museum visitors how our digestive system works to breakdown food into usable nutrients. A ball (bolus) rolled or bounced through various options to get masticated and swallowed, hopefully without gagging or choking. As the bolus traveled it turned on information about enzymes being released, nutrients being absorbed and chemical processes taking place along with all the bells and sound effects of a traditional pinball. The bolus would churn in the stomach while hopefully avoiding being thrown up – GAME OVER! A convoluted intestinal track would end up in the rectum, waiting for the perfect moment to release. The winner was rewarded by the sound of a flushing toilet!
Harnessing Light as Sculptural Form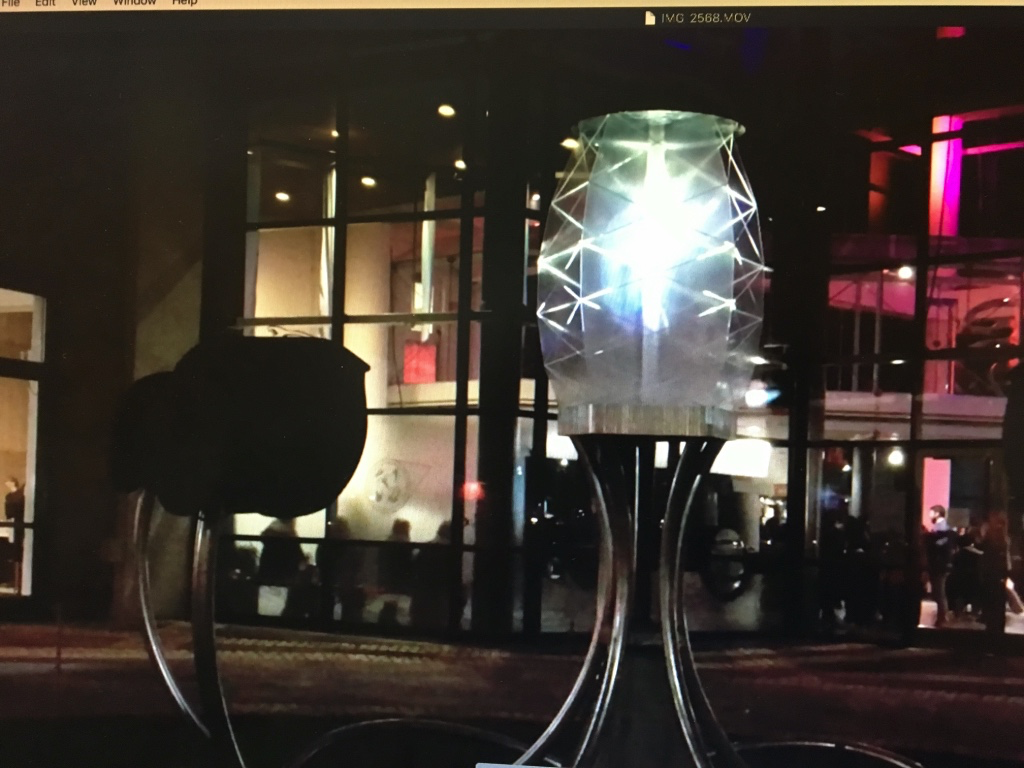 Another unusual creative experience was in creating a display that demonstrated how a laser beam could be used to measure movement. Laser light was sent through a fiber, then split in half and sent in opposite directions around a coil of fiber optic cable and then recombined. If the coil was rotated, the two light inputs would get out of phase with each other because the light traveling in the direction of the rotation would have to go a greater distance in the amount of time that it took for the light to go through the coil. Amazingly, this phase shifting can be detected with a light meter and measured to calculate for visitors how far the device was rotated. We built one of these to demonstrate the principle. Three of these devices set up at right angles from each other make up a modern laser gyro. Similar devices are used to orient spacecraft. Our demo model was three feet across while the ones in spacecraft can fit into your closed fist.
When I first moved to Oregon I was hired to build a 5-foot tall face that could blink its eyes among other sculptural things for the Oregon State Pavilion to be placed in the Worlds Fair in Vancouver BC that year. I had the pleasure of working with Michael Curry who was on the same sculpting team as me and who recently hosted a tour of his amazing facility for the ISC conference.
Professional Collaborations with a Bronze Sculptor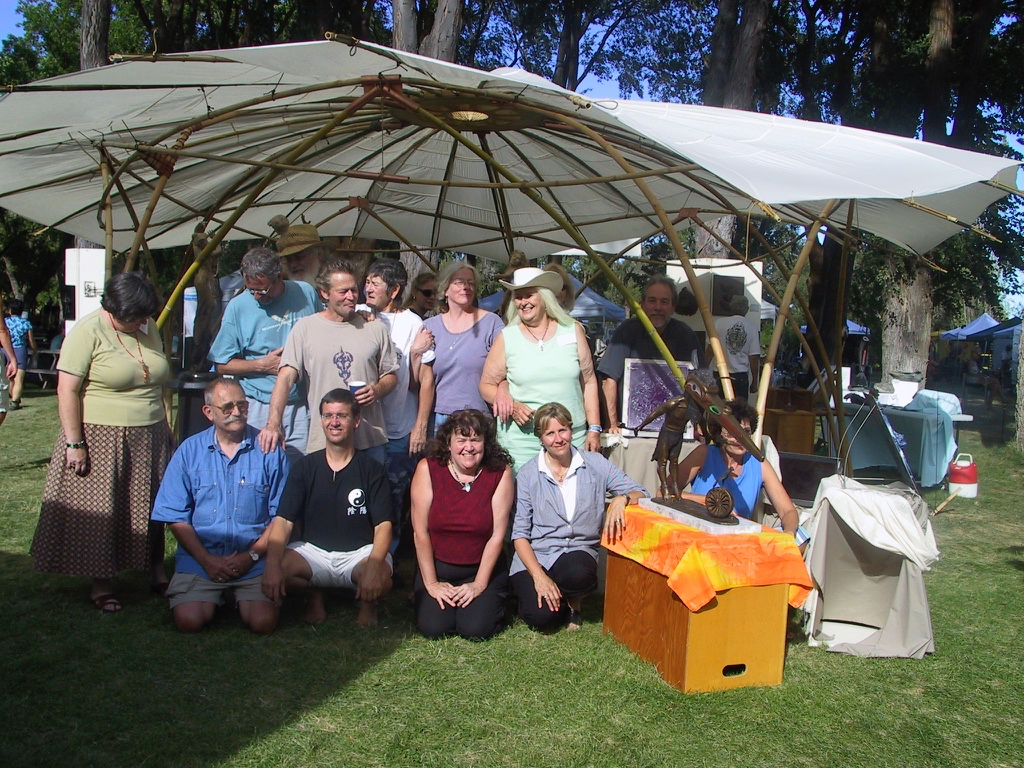 The last few years have provided me with the opportunity to work with architects and various builders to design an interesting building titled The Geode It included a 35' tall spiral staircase, the iconic digital Light Blades on the outside of the Geode, and custom furniture. All of these projects were done with teams of creative people including several from the ranks of PNWS like Matt Scheick and Dave Gonzo who drew up the engineering drawings for the spiral stair from my concept sketches. It was laser cut and welded together in my shop while it was raining indoors (an amazing accomplishment).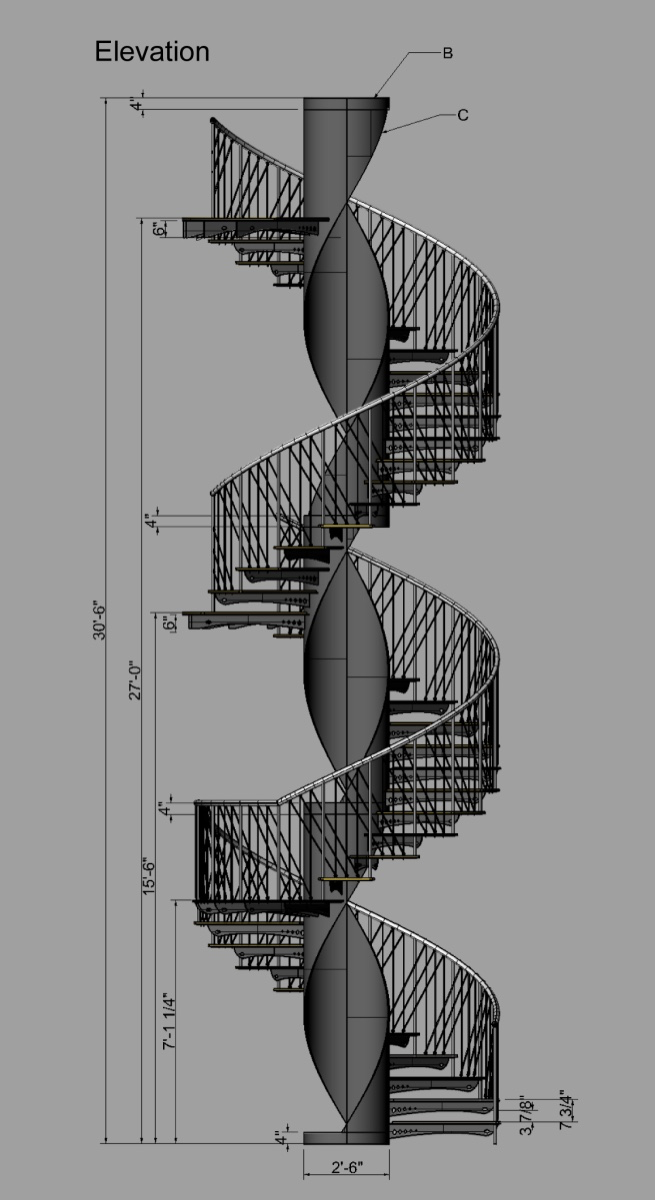 The light Blades was created by a bigger team lead by my son Talik and gifted people who have created all sorts of things for Burning Man with us. I first made (with other PNWS members) a bamboo tent structure for a PNWS sculpture event held at the Maryhill Museum of Art in the Columbia Gorge. That inspired a 3,500 square foot bamboo structure for Burning Man years later. It housed a bar, sofa lounge, dance floor, and a giant misting chandelier by my friend, Lloyd Lindley.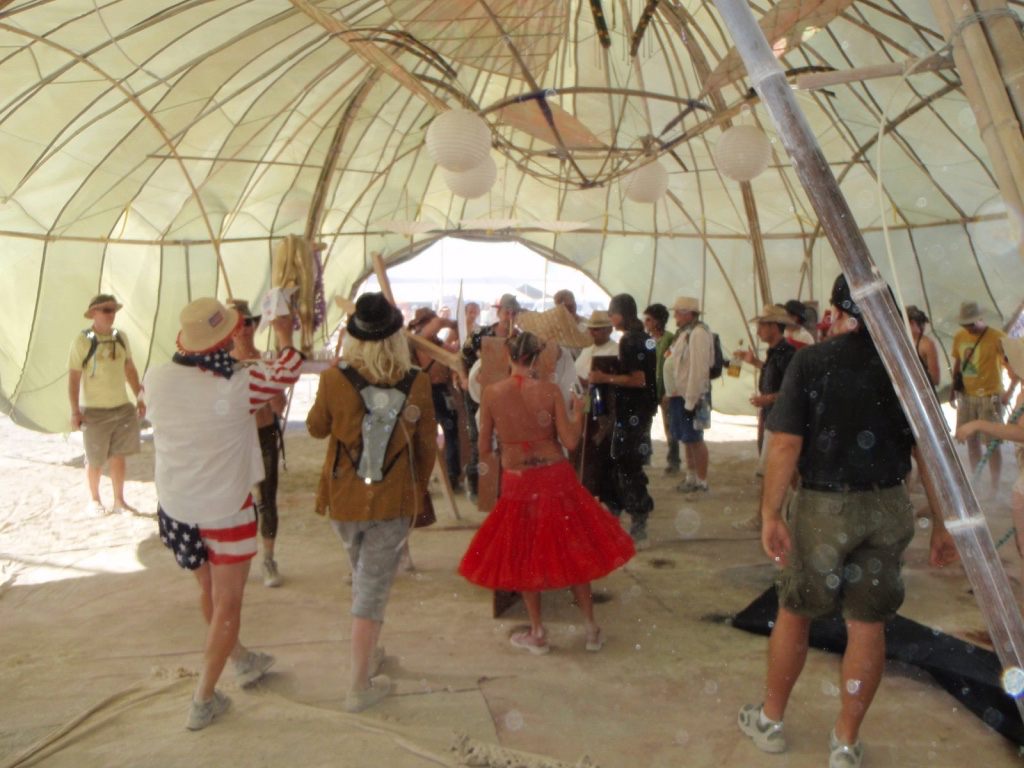 Two years later I designed and lead the construction of a Mutant Art Car for Burning Man that carried the Tree of Knowledge, a refugee from the Garden of Eden, to help find a new home that would appreciate truth and freedom. Along with it came a wise, animated snake that could slither, listen, speak, breath smoke, and slide its split tongue out into surprised places (it's still on display in my Studio).
The Evolution of an Accomplished Bronze Sculptor
That was a long introduction to get to what I hope to explore next. Recent projects in digital and projected light have suggested we may want to cast larger ideas into clear or translucent castable materials. These forms can be projected onto with mapped and animated imagery to give the sculpture additional dimensions of color and movement. So far we have experimented with opaque, castable urethane and clear or dyed epoxy resin. The urethane can be formulated so it can set in a short time. It is possible to hand rotate the molds as urethane set. Epoxy, on the other hand, allows for better control of clarity and colors, but sets too slowly to hand roll as it sets. Epoxy wants to be cast flat. We can bend it, but not pour it into a large mold easily. We just finished building a 9 ft. by 6 ft. chandelier for the main room in the Studio from precast flat pieces of epoxy resin.
I don't know where this journey leads but we're looking for collaborators, ideas, and skills to join us. Combining skills can greatly expand our options for making amazing things. We invite you to continue the conversation.
To learn more about Pacific Northwest Sculptors events, contact us today!