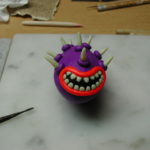 Art should be judged subjectively, right? Art means different things to each and every person. Does it speak to me or you? Or does it match my furniture? I have rediscovered, after over a week in Miami for art week, that there is no accounting for taste…even my own.
Art in the commercial world, one might think, must also withstand objective scrutiny: Was the work made with a traditional skill, is there a depth of process that indicates mastery of material, will the materials withstand the test of time or exposure to the public, does the work speak to an important social intersection, etc? And one might also think it common to use objective qualities to help judge an artwork's commercial value. Apparently this is not the case in Miami during art week….anything goes.
This is the largest commercial contemporary art marketplace in the western hemisphere: galleries, consultants, artists, assistants, curators, museums, and collectors. This is a vastly diverse collections of people, many of whom travel from all corners of the world for Miami's art week. In addition to the main far, Art Basel, there are some 20 plus other concurrent fairs, aka satellite fairs. While in Miami I walked 42 miles (6 or so a day) and every inch was lined with art. I visited 6 art fairs, 3 private collections, and 2 museums.
My work was displayed at the Untitled art fair, a 2.5 acre tent, directly on South Beach mere feet from the Atlantic Ocean: 136 international galleries showing work of close to 1000 artist. There was a wonderfully colorful installation of Carlos Cruz-Diez' work outside the entrance and in the entry area. Untitled is a few years old, curated by Omar Lopez-Chahoud, and is a well respected fair. I always see a lot of work I like at Untitled.
Scope was right next door, also a large tent, and also on the beach: 140 galleries, similar number of artists. By the time I got to this fair, I was exhausted, so I did not see the whole thing. I also found many artworks at Scope that I liked. The highlight Dorielle Caimi's (sur)realism.
Pulse Miami, at Indian Beach park, hosts over 40 international galleries. Probably the most intimate of the fairs I visited. Pulse seemed to have more well established galleries. I always enjoy this fair. Highlights were Jim Campbell and Yorgo Alexopoulos at the Bryce Wolkowitz gallery.
Art Miami is HUGE. I tried to see the whole thing…and much of it seemed secondary market? There was a lot of very large and expensive work here. I was terribly overwhelmed and I only took one photo: Shigeki Hayashi.
Context is a smaller fair operated by the same people that do Art Miami. I LOVED this fair. I found a ton of art that I wish I could afford. The highlight here was Yong R. Kwon's 'The Eternal Flame' which was simply hammered discs of stainless reflecting light onto a white panel.
Aqua (also run by Art Miami) is a smaller fair that takes place in a hotel of the same name. This fair is somewhat frowned-upon by other fairs….And I can see why. The venue is a bit strange as the galleries show their wares in small hotel rooms bereft of furniture. If you are visiting Art Miami or into aqua and there is a free, air-conditioned shuttle that will take you there….so it is worth a visit.
I've saved the worst (in my opinion) for last: Nada (New Art Dealers Alliance). Maybe I was in a bad mood or hungry while I was at NADA, but I don't think that is it. In general I found almost nothing of objective quality at this fair. Just because an artist throws shit….ehem, paint at a canvas, doesn't make it good art. I saw a lot of ugly and distasteful work here. Much garbage. The true artists at this fair are the galleries and sales people that can sell garbage to "art" collectors. I didn't take a single photo here.
The Bass Museum of Art was showcasing 3 artists. All three installations had me thinking. Ugo Rondinone made a room full of realistic sad clown manikins with beautifully gradated walls. Pascale Marthine Tayou combined his contemporary installation practice with many of the Bass' 16th century masterpieces and ancient relics for a somewhat offensive, yet still enjoyable contrast of eras. And my favorite, Mika Rottenberg's "Cosmic Generator" film. 26 minutes of completely surreal commentary on modern international trade and plastics. I haven't seen a film this good in a long time, and there is no dialog.
The Perez Museum hosted a huge collection of Cuban art. My favorite was a "painting" by Yoan Capote made of over 550,000 rusty fish hooks.
In addition to the fairs and museums, I also visited 3 private collections. I won't describe the de la Cruz or Rubell Family collections, because I wasn't excited by them. The Margulies collection, however, blew my mind. They had two enormous installations by Anselm Kiefer comprised of giant paintings juxtaposed with many tens of thousands of pounds of reclaimed concrete. I highly recommend a visit to this collection if you are ever in Miami.