Our meeting on October 27 was a major milestone for PNWS. It was our first face-to-face meeting in over a year and a half. Over 20 attended in person, another dozen via Zoom. We had our usual tech glitches, but we got it done.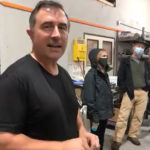 Our presentation by Rip Caswell at Firebird Bronze was outstanding. Also participating was Chad Caswell of Firebird 3D and Will Amber at Indigo Metal Fabrication. It was information rich, visually stimulating and incredibly inspiring. The three businesses compliment each other to produce outstanding sculptures for artists across the country. It was encouraging to see so many members attending a real event again. The networking session after the presentation felt like old times.
Many thanks to our board members who helped make this happen. Dave Frei organized and promoted the event. Terri Elioff worked the second camera, welcomed nonmembers and made everyone feel comfortable. Andy Kennedy also sparked conversations and made introductions. It was reassuring to see a room full of animated conversations. At some point, we will all be comfortable meeting and networking as before. Until then, our real challenge continues – to stay connected.
When the pandemic began, I estimated we might lose 20% of our members. Networking is our greatest member benefit. Without that interaction, our value is compromised. We have, in fact, lost about 20%. through our new website and the success of our recent virtual exhibit, we gained 7 new members in the past two months. We are on a positive trajectory.
Chas Martin