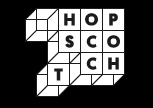 Hopscotch, an interactive art installation, is set to take up a 23,000-square-foot space in Southeast Portland's Goat Blocks.
San Antonio, Texas, is the current home to the art experience, and Portland will be its second location. Like the original location, the Portland Hopscotch will feature local, national and international artists, creating what co-founder Nicole Jensen calls "an immersive, experiential and unconventional art experience."
Co-founder Hunter Inman calls it an "entertainment experience that is art-driven," similar to "festival art" like Burning Man or even Portland's Winter Lights Festival, but in a different category.
Hopscotch presents curated art with an emphasis on visitor interaction, and it also will be accompanied by food and drink offerings and live or curated music.
The art venue plans to open in the Goat Blocks commercial and residential development at Southeast Taylor Avenue and Belmont Street in early summer. Jensen and Inman said they are also working to hire a general manager and other staff for the project.
Inman and Jensen started out making art events in Austin but established their first permanent Hopscotch location in San Antonio in 2020. They said it quickly became a popular attraction, winning praise a must-see for visitors or an unconventional date night option.
When looking for a place to expand, they saw Portland as a natural choice for its arts community and offbeat reputation, similar to the vibe of their home base in Austin. It also happens to be Jensen's new home since relocating from Texas last year.
"It's got that rich network of artists. It's inclusive and diverse," she said. "Portland just felt like the right move for us."
Besides opening in Portland, Jensen and Inman said they want to be "as intentionally local as we can," in collaborations with local artists.
For visitors who would experience Hopscotch for the first time, Jensen said she wants them to have an experience of "really letting of the outside world."
"We hope they come away with a feeling of connection," she said. "It really inspires people to revisit the creative parts of themselves."