Just the other day I attended an event where the Arts & Economic Prosperity 6 (AEP6) report was presented in a public forum. In sharing the details my hope is that more of us understand the impact the Arts has on our community.
The newly released Arts & Economic Prosperity 6 (AEP6) is an economic and social impact study of the nation's nonprofit arts and culture industry. Building on its 30-year legacy as the largest and most inclusive study of its kind, AEP6 provides detailed findings on 373 regions from across all 50 states and Puerto Rico—ranging in population from 4,000 to 4 million—and representing rural, suburban, and large urban communities.
In 2022, nonprofit arts and culture organizations and their audiences generated $151.7 billion in economic activity—$73.3 billion in spending by the organizations, which leveraged an additional $78.4 billion in event-related spending by their audiences. The impact of this economic activity is far reaching, supporting 2.6 million jobs, generating $29.1 billion in tax revenue, and providing $101 billion in personal income to residents. AEP6 sends a strong signal that when we support the arts, we are investing in both economic and community well-being.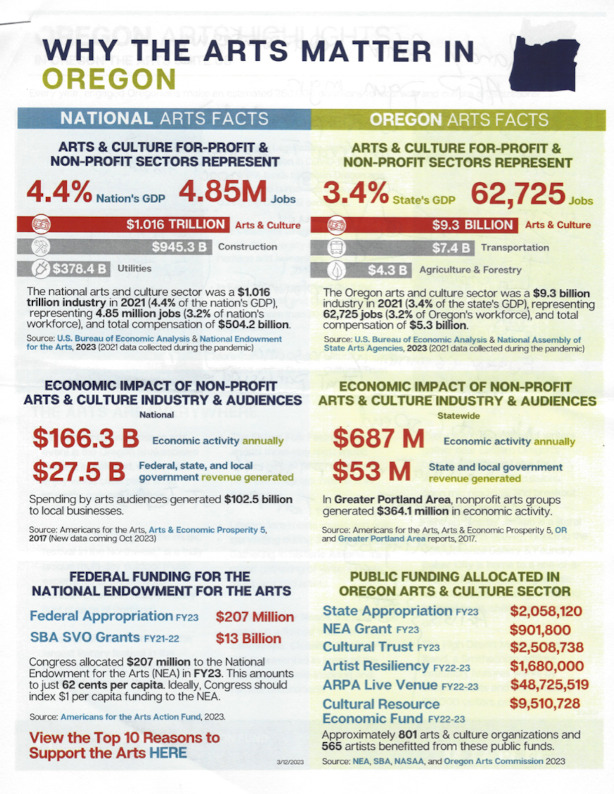 You can visit to see a map and get local results https://aep6.americansforthearts.org/local-regional-findings to see a map and get local results.
For a more detailed report on Washington County, Multnomah County and the City of Portland just send a note to ormcoupe@yahoo.com stating your preference.