by Andy Kennedy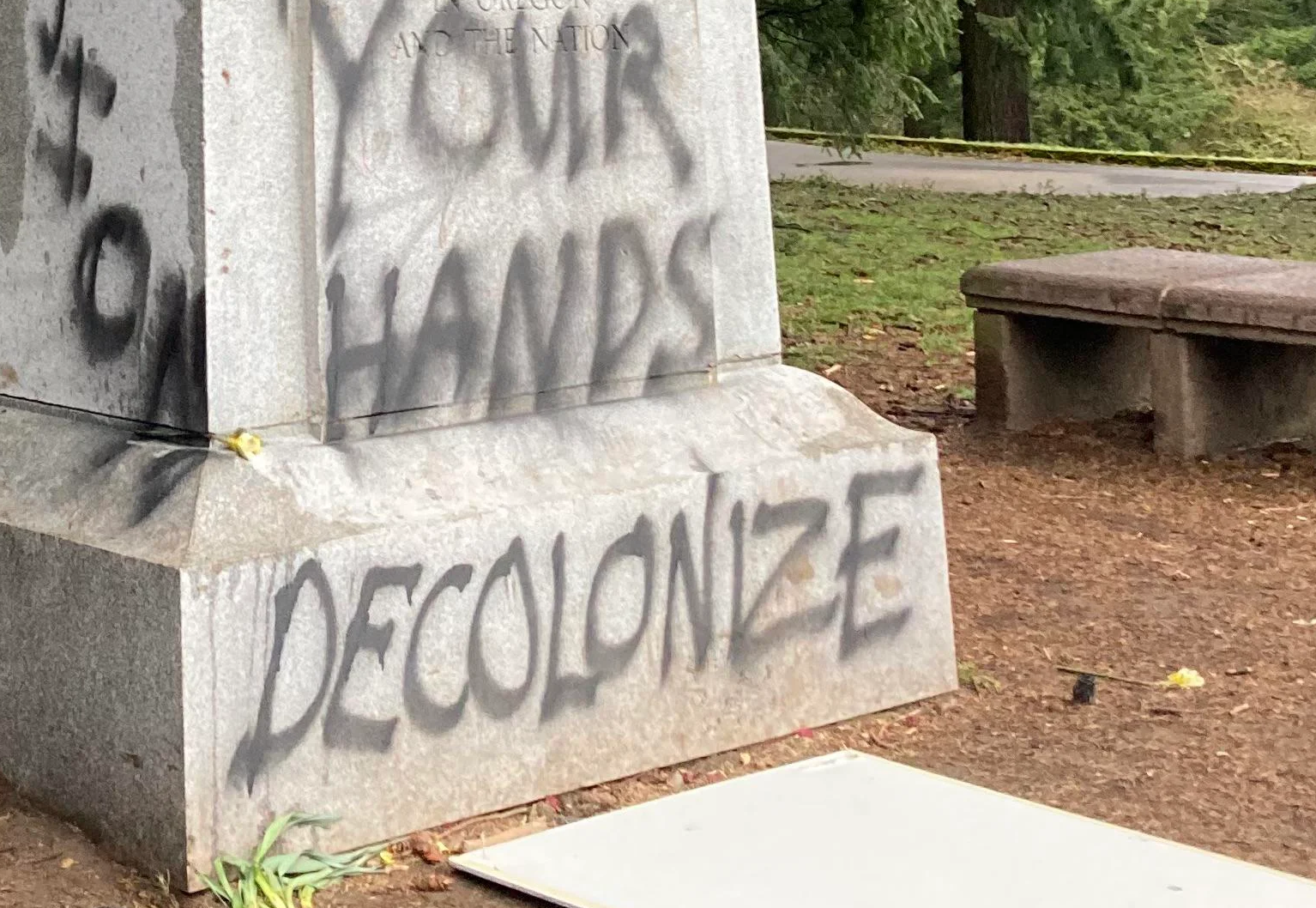 In the tradition of York and Sacajawea, PNWS 2021 International Sculpture Day (IS Day) was a pioneering experience. A conceptual theme was chosen: Unrecognized. This word came up as a conjunction of different sculptural phenomena that were hidden, undervalued, uncompensated or intentionally made less important.
A portrait of York, an uncompensated American pioneer, was secretly installed on Mount Tabor last February, and became the central inspiration for the PNWS IS Day. Earlier in October 2020, protesters knocked an image of an anti-democratic, white publisher off the block-shaped pedestal that York is on today. They also sprayed the word DECOLONIZE on both sides that block shape. At least three trends of US history are being challenged here. A black man is being recognized for his pivotal role in the Corp of Discovery, an expedition that may not have succeeded without him. The white artists of this sculptural dedication to a black man choose to remain anonymous even with international attention on their artwork. And American colonization is no longer history, but a present-time action. As though we are colonists now, playing our parts in a kind of brutal conquest game. York and the artwork about York are both leading us in a different direction. Honoring his experience, fully recognizing his contribution and suffering, brings us to a new territory, an uncharted inclusiveness. Letting go of the old model of colonial conquest and ambition at the expense of our humanity, is not a loss. We gain the real scope of a truly representative human experience. York's portrait in the middle of Portland gives a clear opportunity to place York at the center of a US history that has not been recognized.
In all history the colonization of the Americas is the single biggest movement of human cultures. Starting about five hundred years ago Europe, Asia and Africa came to the Americas, with a mix of ambition and denial. The patterns of conquest and projecting otherness continue from then until now in obvious and subtle ways. To decolonize means to stop this process, a plea to stop abuse, stop exploitation, stop objectifying life. This goes beyond politics or social agendas. It is primal in the way that putting down a tool, no longer needed, is a primal gesture. Time to stop the urge to control the land and every living being. It's time release the tools at hand.