Creating Posts on your Member Profile page.
Members familiar with the Member Profile page are likely aware of the tab that displays the posts created by that member. Until now, members needed to know how to access the WordPress dashboard, after logging in, to create a post. A skill only a few members have. The Website team has been actively working to make it easier for members to create their own posts and are excited to announce this new functionality.
Now, when you login and visit your Member Profile page, a Create Post tab is available.

Creating a Post
When you click the Create Post tab the following input form is presented: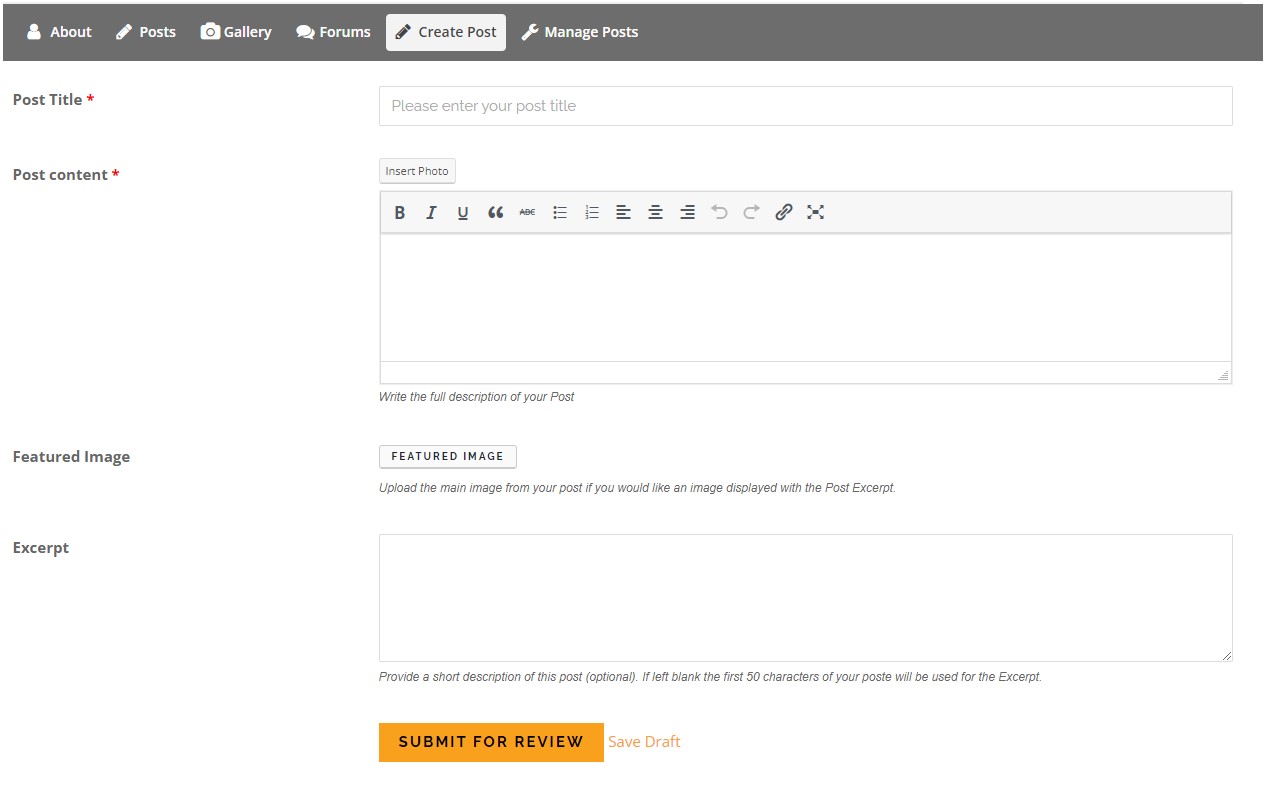 ---
Field Descriptions
Post Title
Enter Up to 40 Characters
Post Content
Enter the full content for your blog post here. To include images use the "Insert Photo" button to upload each image. Once the images have been uploaded you can resize in place. Text will appear before or after the images. Text cannot be placed on the sides of images, only before or after.
The Member Posts and Articles pages present excepts of Posts rather than full post to make it easier for site visitors to find posts of interest.
Featured Image
If a Featured Image is uploaded it will be used for the Excerpt noted above. If not, no image will appear with the Excerpt.
If you have one or more photo in your post it is advisable to select one of them to be your Featured Image.
Excerpt
If the Excerpt are field is filled out it will be used for the Excepts mentioned above. If not, then the first 50 characters of the post will be used for the except.
Once you click the Submit for Review button your post will be available for review by our website editors. You will be notified once one of the editors have reviewed and published your post to the site. Our goal is to publish within 2 days.
Your published posts will appear on the Posts tab on your Member Profile page as well as on the Members Posts page. If the website editor feels your post would be a good candidate for the PNWS Articles page or our monthly newsletter, they will contact you for permission to use the post.