We will be meeting up at SCRAP PDX on Saturday, April 29th, 2023 from 4:30 to 6:30 PM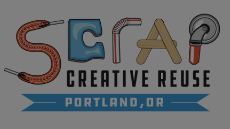 Their address is: 1736 SW Alder St, Portland, OR 97205, United States.
Visit https://portland.scrapcreativereuse.org/ to learn more about them.
Scrap has a lot of usable, crafting material that would have gone into trash, but was instead donated to them. What they have in abundance for cheap is a lot of odd paper, card stock, and some textiles.
More details will be forth coming