"Writing is easy: all you have to do is sit staring at a blank sheet of paper or screen until drops of blood form on your forehead." Gene Fowler.
My purpose in writing this post is to share a small slice of my journey in sculpture. Along the way I have learned many things, observed demonstrations, been overwhelmed by others and exceed my own expectations. In this article I will address my most recent trip to Marble, Colorado and the Marble/marble Symposium.
I am a direct sculptor. Here is what that means: Also referred to as taille directe. A less planned approach to carving in which the sculptor carves the finished sculpture without using intermediate models or maquettes. The sculptor typically works from memory, though some such as Cornelia Van Auken Chapin would carve with a model in front of them.[1] The practice gained prominence in the early 20th century and, in some respects, was seen as a return to the direct approach used in primitive art. My initial awareness and confirmation that I am a direct carver arose from a previous symposium in Lawerence Kansas. To this definition I add the concept of; I am either looking out the window or in the mirror when I create. While the concept is new to me it has helped to manage the creative drive and not destroy work.
Arriving at Marble/marble, after selecting a work site, I walked over to the stone pile to select a stone.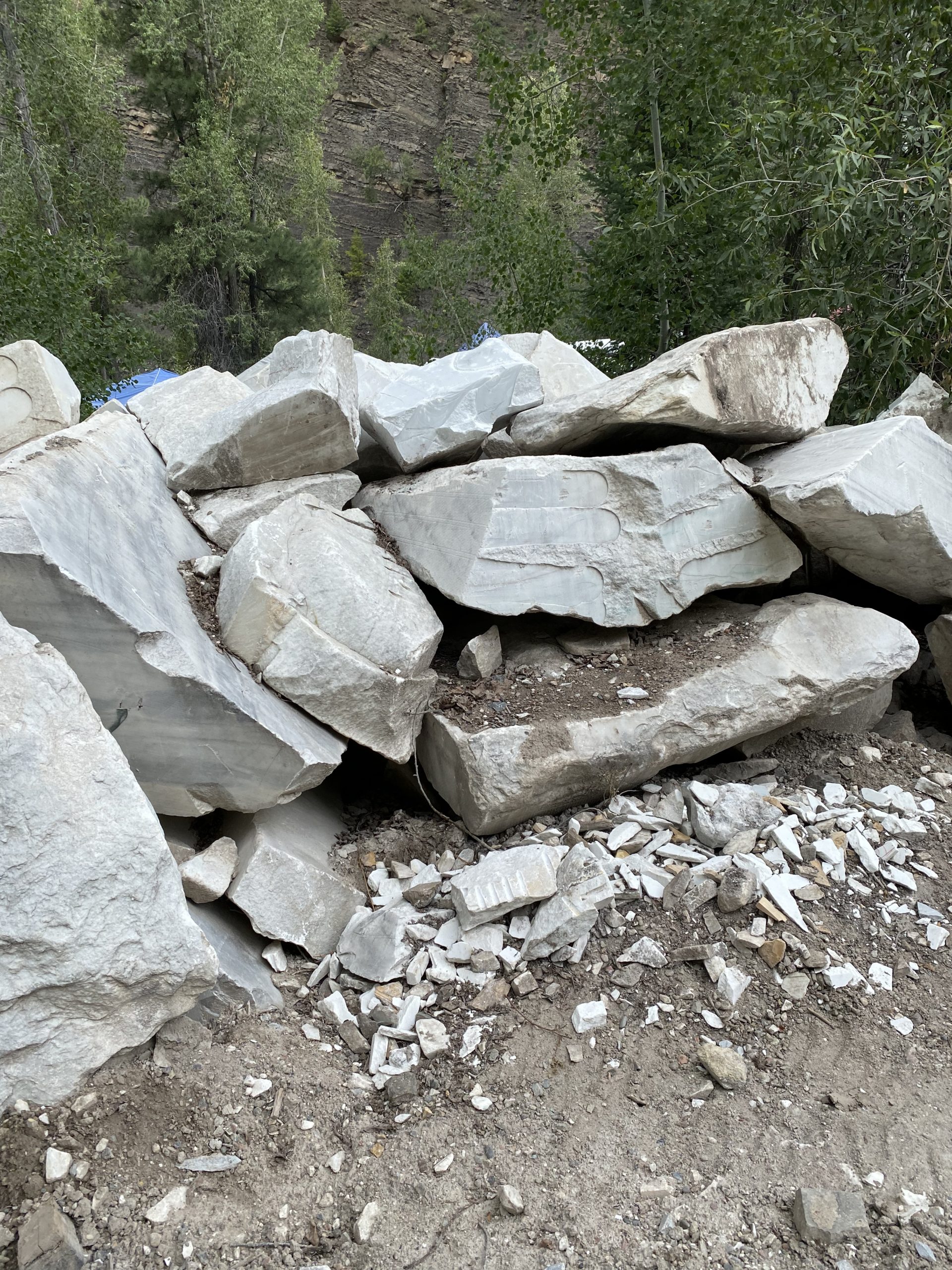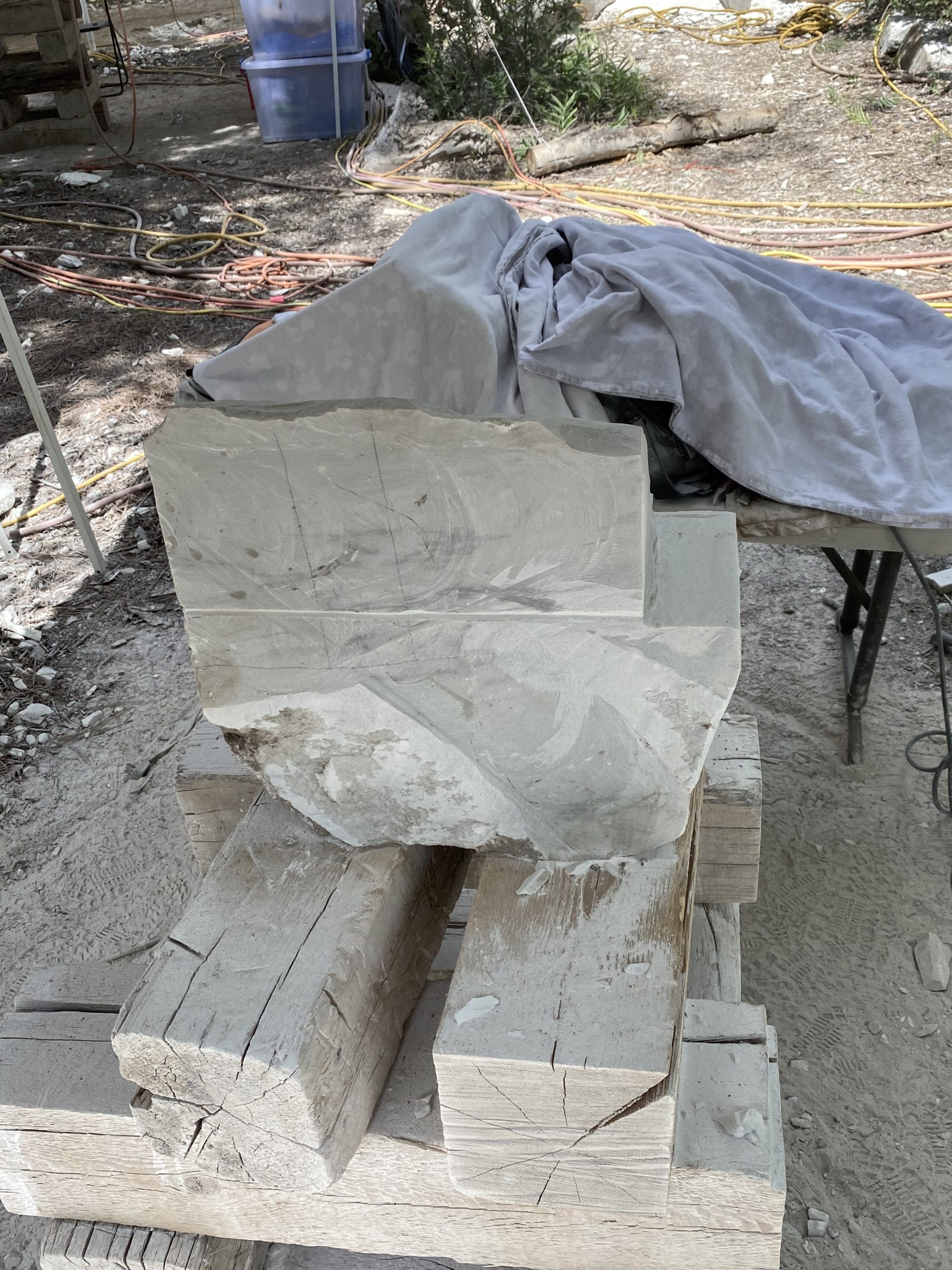 from this stack to my work area
Next is to rough the stone. I use my angle grinder with a diamond blade to smooth the surface, knock down high spots and get a feel for the grain and composition. Stone, like wood, has a grain and the density can vary which has a direct impact on expected outcomes when carving. Being the first time I was carving Colorado Yule marble I was unsure of how it would react to chisels, grinding and polishing.
Having discovered the grain and the density the process of uncovering what was "inside" the stone began.Based upon conversations with other attendees and listening to the instructors I made a choice to go slower than my usual pace. The method I settled upon, to force myself to be slow, was to work on only one side per day. By the end of day one the stone and I were here: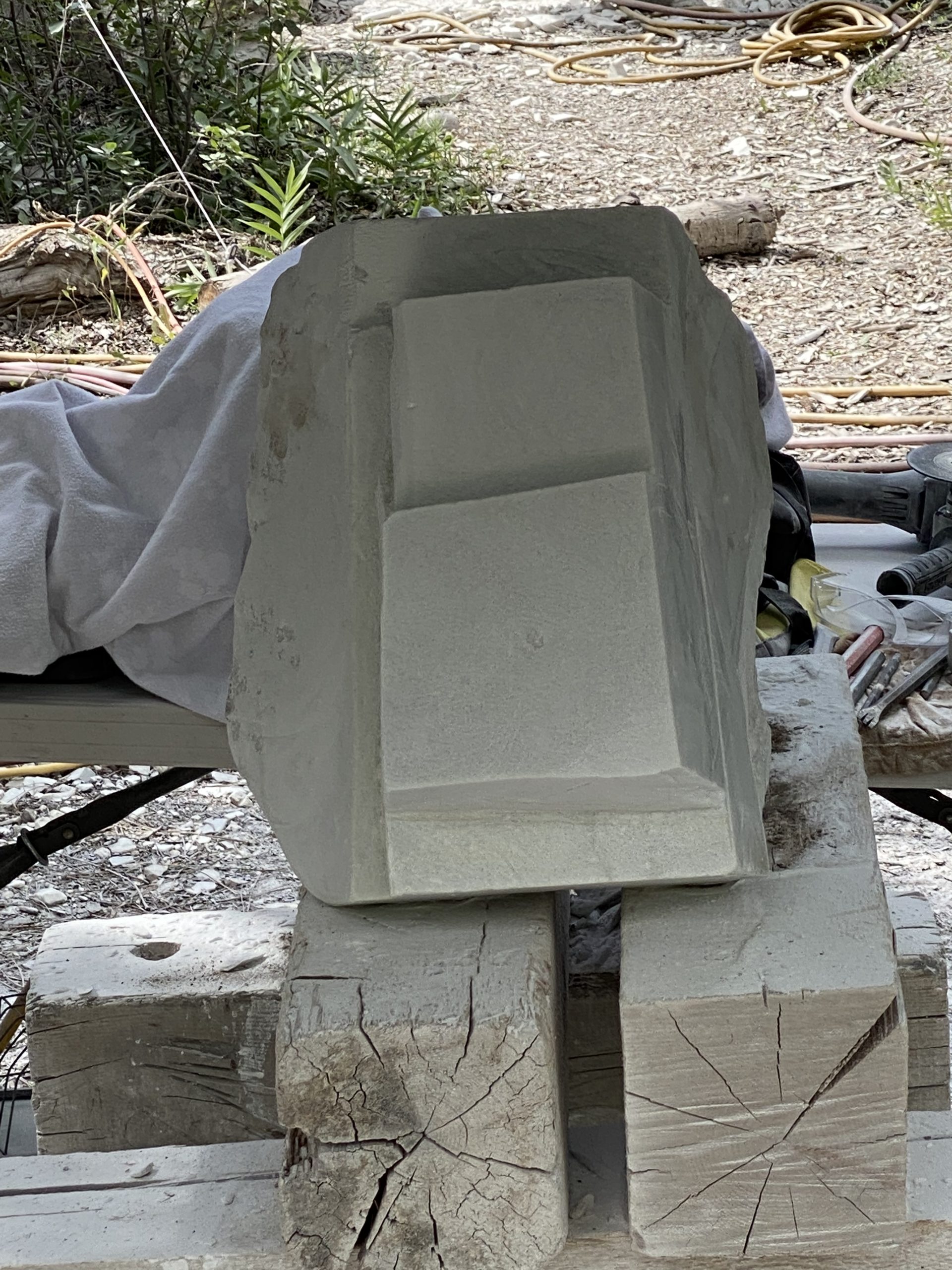 Day 2 started on a different side with the stone placed one side on the bench.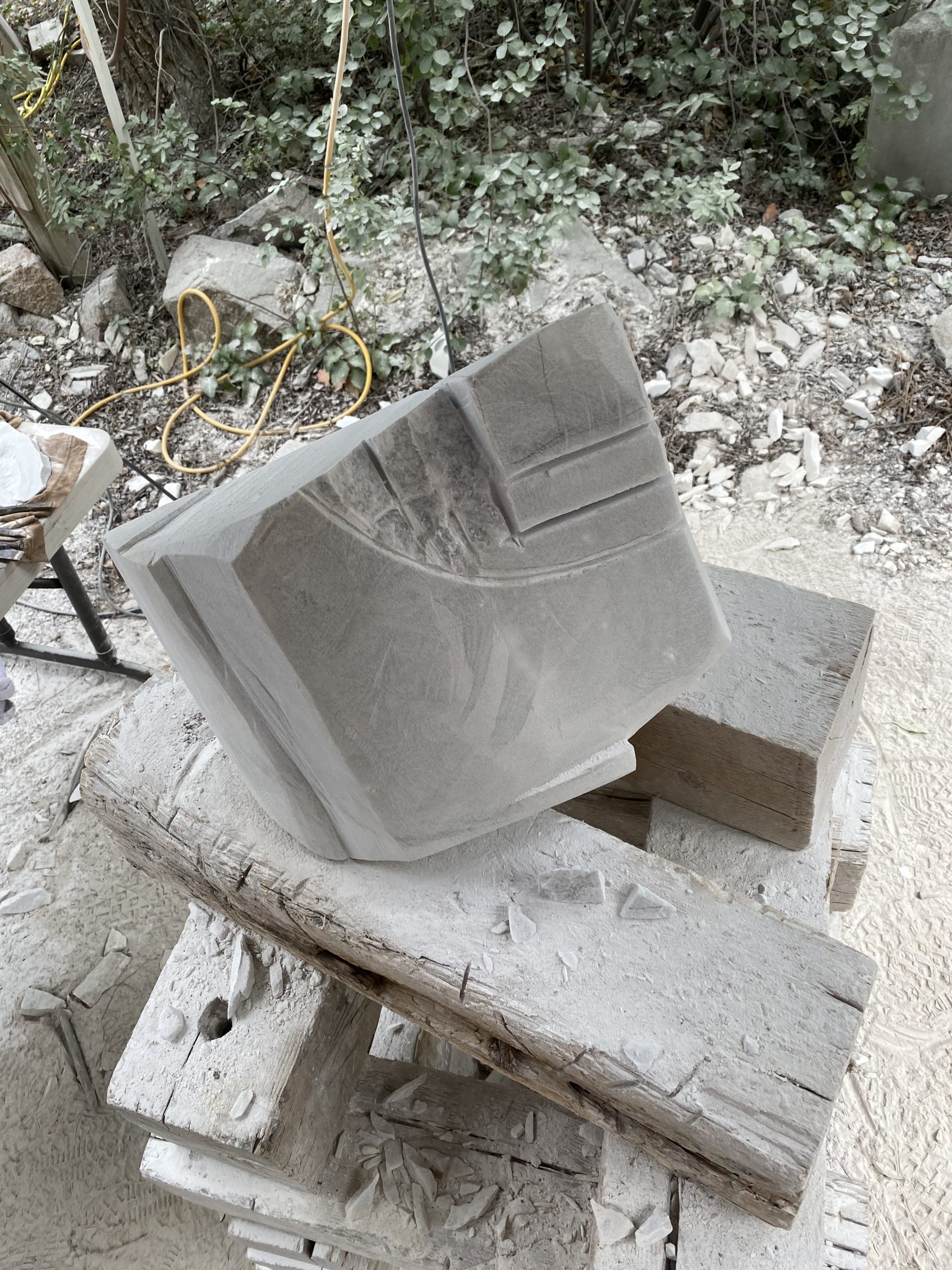 Through out the day I took many breaks, looking at others work, attending classes on technique, tool usage, composition and much more so by the end of this side of the stone took on this form: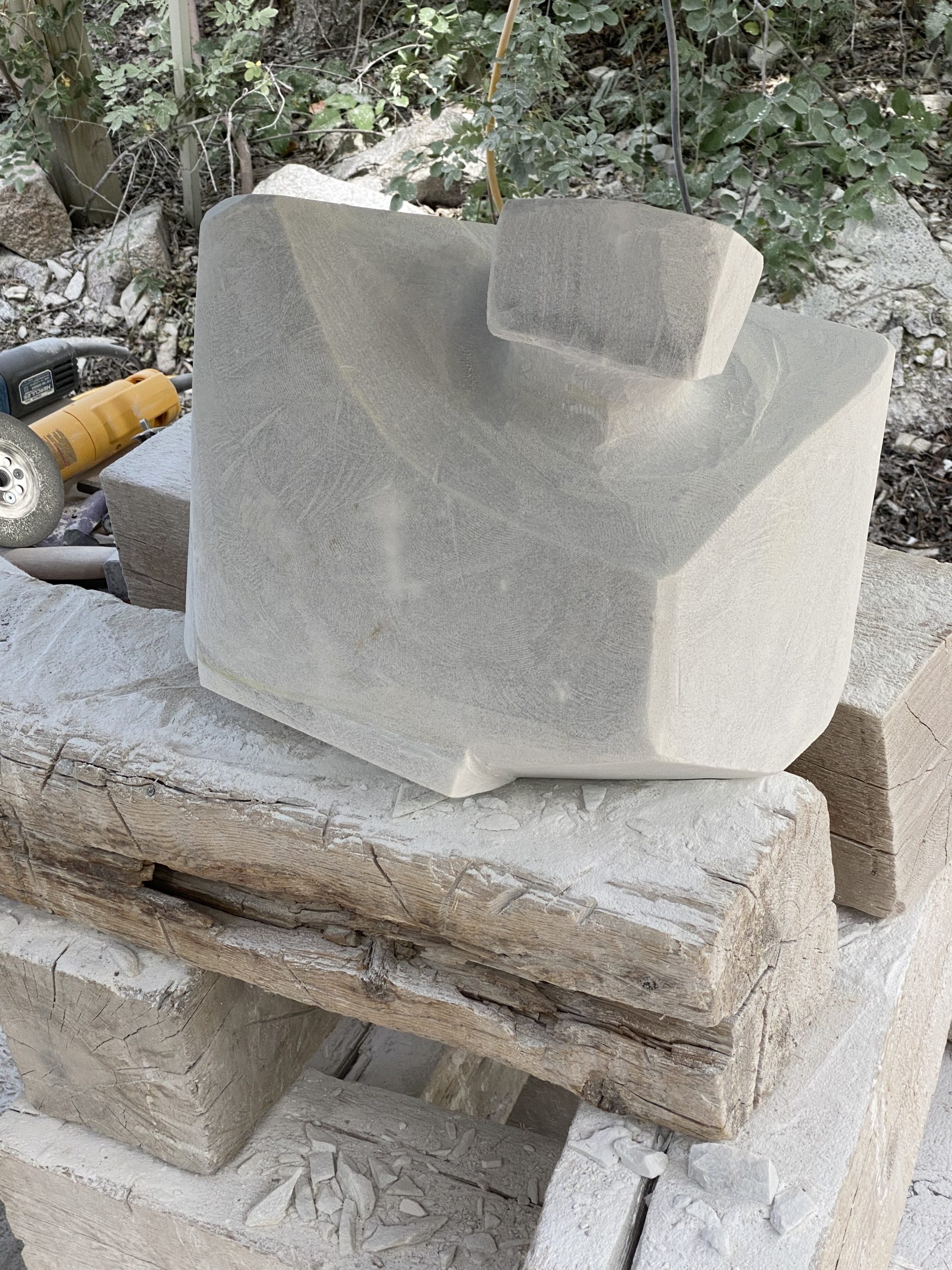 Now the start of Day 3 was little different as the weather changed. I found it slow to get started, might have been the altitude, and I lost my focus. I ended up working on three sides which I was able to reduce to two and the following pictures show the progress:
The next day I found myself staring at the side where I first started and realized I was going around the stone in a counter-clockwise motion. This realization gave me pause. I decided to set the stone, with the side to work on facing me, then select three viewing angles, decided that each angle would get 15 minutes, of direct observation, and only then I would return to working on the stone. Here is the starting view: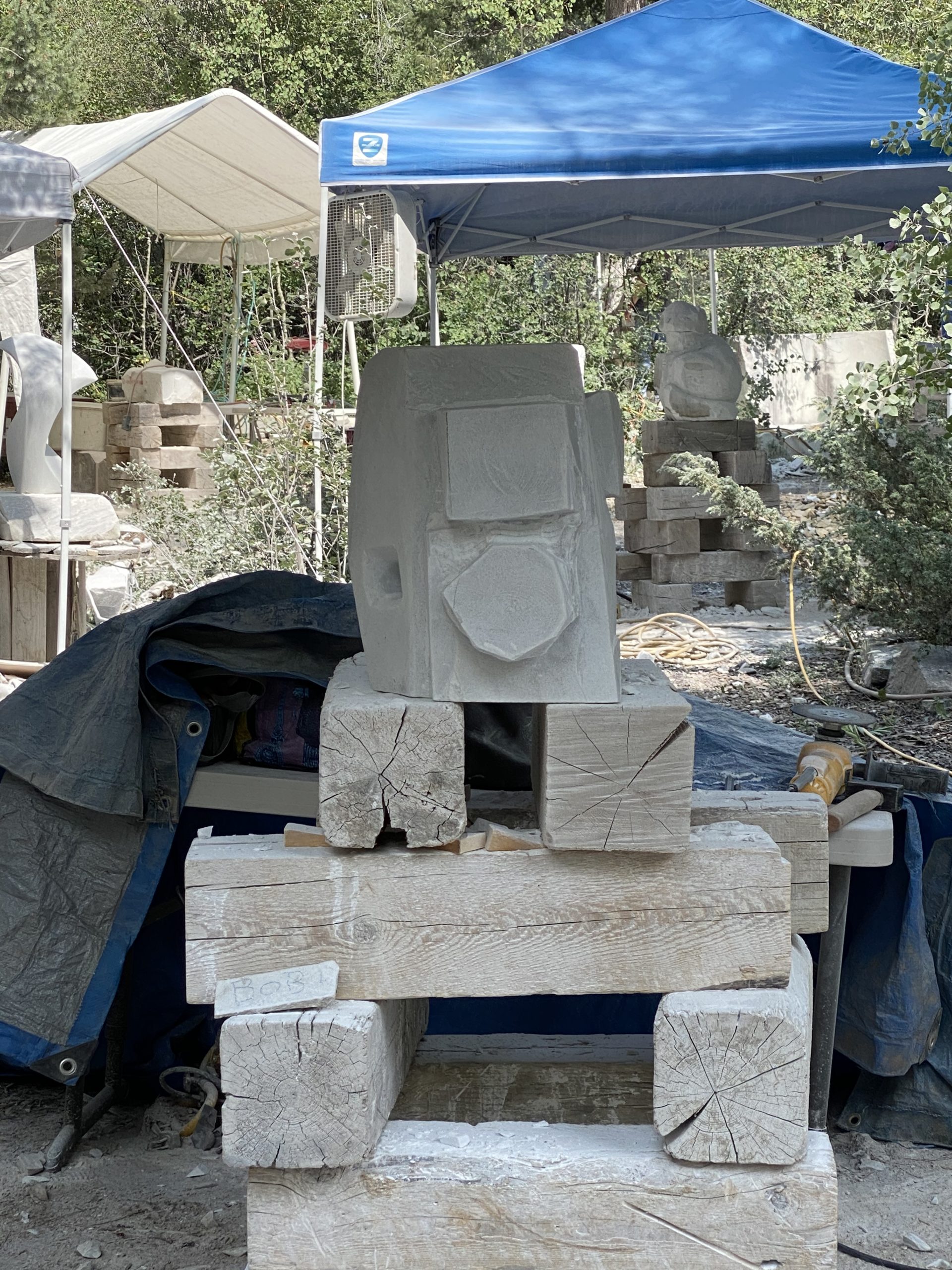 After observing the stone I made this side into two sections. Which was both fun and interesting. Note that these pictures cover two days.
As it would happen that day was the last day I would work on this stone as my thoughts on the next step for the stone and myself just vanished.
Looking back I realize that my view changed from looking into the mirror to looking out upon the world.
I did not touch the stone until I got back home. First thing was to do some polishing. Results are below:
In closing. I appreciate your reading this far. If you have questions on anything here just let me know.