Creating Posts on your Member Profile page.
Members familiar with the Member Profile page are likely aware of the tab that displays the posts created by that member. Until now, members needed to know how to access the WordPress dashboard, after logging in, to create a post. A skill only a few members have. The Website team has been actively working to make it easier for members to create their own posts and are excited to announce this new functionality.
Now, when you login and visit your Member Profile page, a new Create Post tab is available.

Creating a Post
When you click the Create Post tab the following instructions are presented:

---
When you select the Create New Post button the WordPress block editor will be presented. The block editor is quite different from text editor and word processor applications you may be familiar with so we highly recommend you check out our Writing Posts in WordPress tutorial page which contains links to several helpful video tutorials that will introduce you to the block editor.
When you select Edit Draft Post you will be presented with your list of posts similar to this:

Select the draft post you would like to edit to enter the block editor.
Publishing a Post
Once you are are satisfied with your post the next step is to submit your post for Review. Selecting the Publish button will present the following confirmation prompt: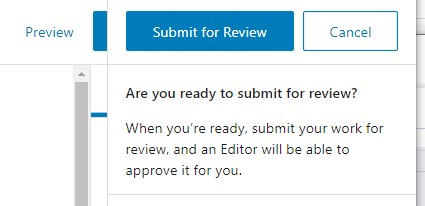 Once you click the Submit for Review button your post will be available for review by our website editors. You will be notified once one of the editors have reviewed and published your post to the site. Our goal is to publish within 2 days.
Your published posts will appear on the Posts tab on your Member Profile page. If the website editor feels your post would be a good candidate for the PNWS Articles page or our monthly newsletter, they will contact you for permission to use the post.